Johnnie Walker,THE FOUR PILLARS
NOSING & TASTING / Whisky Proeverij
(35)
NOSING & TASTING
Session at 3 p.m. on reservation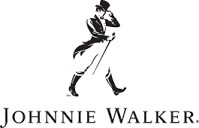 Johnnie Walker is een blended Schotse whisky. Het wordt in 200 landen verkocht en is daarmee de meest verspreide Schotse whisky. Het bedrijf verkoopt jaarlijks 18,3 miljoen flessen. Het is een merk van Diageo.

JOHNNIE WALKER KEEP WALKING
Book: A Long Stride, The Story of The World's No. 1 Scotch Whisky by Dr. Nicholas Morgan
THE SINGLE MALT WHISKIES FROM DISTILLERIES IN THE FOUR CORNERS OF SCOTLAND
REPRESENTING THE FOUR PILLARS OF THE JOHNNIE WALKER CHARACTER ARE :

CARDHU, CAOL ILA, CLYNELISH, GLENKINCHIE
We choose the whiskies from our existing stock, this change from time to time.
THIS 4 SINGLE MALT WHISKIES à 2 cl = 40,00 persoon