THE GAME OF THRONES
NOSING & TASTING / Whisky Proeverij
(44)
NOSING AND TASTING
GAME OF THRONES
A Limited Edition Collection of Single Malts;
Session at 3 p.m. on reservation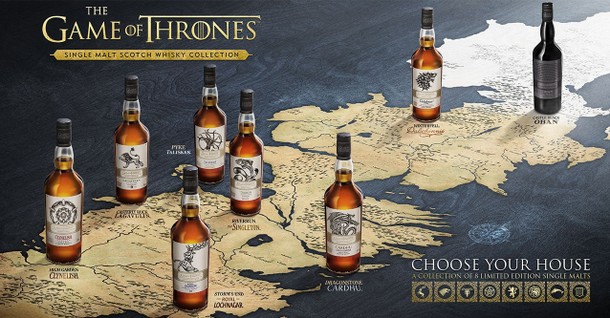 The choice of whiskies seems slightly curious, as it features five bespoke
Game of Thrones
expressions, along with three existing ones that have merely been repackaged
Some carry age statements, others do not, and just one
Clynelish
is offered at cask strength. The standout for quality and value is
Talisker Select Reserve
, closely followed by
9 year old Lagavulin
.
WESTEROS
House Lannister Lagavulin
House Tully Singleton of Glendullan
House Baratheon Royal Lochnagar
9 x à 2 cl = 90,00 per person
Talisker Select Reserve—91 points
This represents
House Greyjoy
in the
Game of Thrones
and features its kraken. The nose offers damp tweed sprinkled with black pepper, plus smoky vanilla and ozone notes. Sweet smoke and citrus fruit on the palate, then more overt peatiness comes to the fore with soft toffee. Medium in length through the finish, with lingering toffee and light pepper. Great value!
Lagavulin 9 year old—90 points
Lagavulin
at an odd age, representing
House Lannister
and showcasing its lion sigil. The nose is floral, with rose hips, toffee, and fragrant peat notes. Full on the palate, with toffee apples, cinnamon, earthy peat, and smoked haddock in salted butter. The smoked fish combines with fennel in the lengthy finish.
Clynelish Reserve—89 points
At cask strength, this
Clynelish
represents
House Tyrell
. Split green wood followed by marshmallows on the floral nose; increasingly sweet, with a hint of cloves. The palate immediately offers classic
Clynelish
waxiness, with tropical fruits, honey, and subtle smoke. Licorice, black pepper, and citrus fruits in the medium to long finish.
Dalwhinnie Winter's Frost—88 points
The
House Stark
bottling is presented with an image of a direwolf on the label. The nose yields honey, orange, malt, toffee, and a suggestion of struck matches. Medium-bodied and sweet, with red apples, apricots, milk chocolate, and white pepper. Satsumas, nutmeg, milky cocoa, and gingery oak in the medium-length finish.
Oban Bay Reserve—87 points
An appropriately dark bottle and label are featured for the
Night's Watch
bottling. Tangy citrus fruit, brittle toffee, and vanilla on the nose. Nicely textured in the mouth, with tangerine segments in cream, developing nuttiness, milky coffee, and a hint of char. Lively spices, toffee, and aniseed in the medium-length, slightly oaky finish.
Royal Lochnagar 12 year old—87 points
House Baratheon
is represented with a label depicting a crown-wearing rampant stag. An undemanding dram, with soft toffee, cream, baked apples, and a hint of ginger on the nose. The palate is light, with brittle toffee, soft fruit notes, and oak. Drying in the finish, through aniseed and wood spice.
Singleton of Glendullan Select—87 points
This showcases
House Tully's
leaping fish sigil. The nose yields honey, barley sugar, walnuts, and plums. The palate is straightforward and approachable, with green apples, orange juice, and delicate spice. The finish is medium in length, with toffee and mildly spicy oak.
Cardhu Gold Reserve—86 points
Representing
House Targaryen
, this features its three-headed dragon on the label. Malt and honey on the subtle nose, with a hint of cinnamon. Medium-bodied, with milk chocolate, caramel, and youthful oak. Jaffa orange and gentle spice in the relatively short, spiky finish.